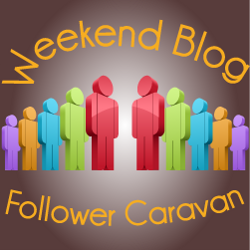 Wow! I haven't been blogging for a week now because of the Holy Week and me being sick. But, I am fine now and hopefully I will regain my enthusiasm in updating my blogs again. I am surprised when I am browsing to see that WBFC is back again. In this light, I am welcoming all of you that will be following this food blog of mine and I can assure you that I will do the same :-).
Here are the mechanics of Weekend Blog Follower Caravan: (copied from
OnlineBiz and Resources
)
1. Make sure you follow our hosts: OnlineBiz and Resources and
Pinay Mommy Online
.
2. Every Saturday, you make a post to welcome your new followers with any of the badges above. Submit the LINK of your post to our weekly post.
3. Once added visit other players' post and leave a comment telling them that you have followed them from the Weekend Blog Follower Caravan. Then don't forget to place the link of your blog to where you wanted to be followed back.