Congratulations to Zoan for being the top refferrer of the week!
As for this week, all those who will be joining this week will be counted as one entry. And at the end of the week two participants will win $5 each! And at the end of the month $20 and a banner ad at the sidebar will be given to one lucky participant. Exciting!!!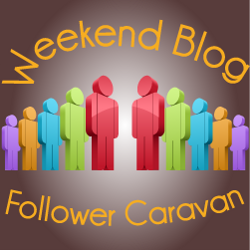 So here is what you have to do: (copied from WBFC)
This week tasks:
1. Follow our sponsors
The Pink Piggy
and LIKE Weekend
BlogFollower Caravan at Facebook (like button at the sidebar).
2. Make a welcome post for others to comment on.
3. Comment on the welcome post if you have followed. If you are already a follower, still leave a comment to know that you have visited.
Join now and meet lots of new friends around the blogosphere! As for my new followers,
WELCOME
to my food blog and I hope you enjoy reading my posts!